Arizona Mountain Lion Hunting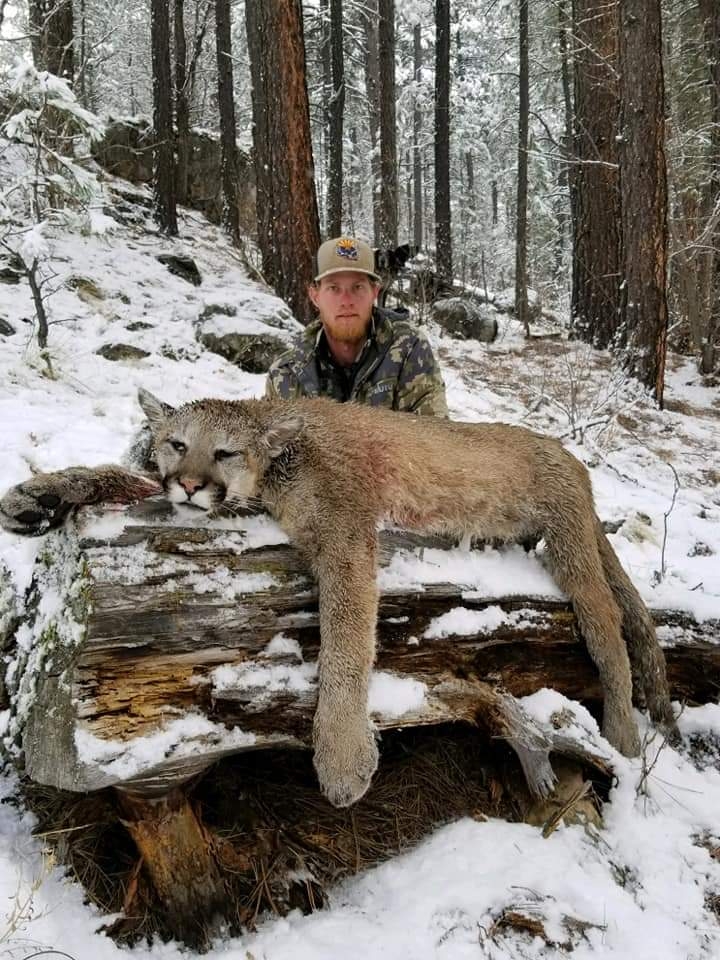 The Hunts
We conduct our mountain lions trips from November through April in the heart of Arizona and we can adapt to whatever diverse conditions we will encounter during your mountain lion trip. Our hunts can be conducted in several different methods including calling them with a electronic predator call, utilizing hand calls, hunting them in the snow with trucks, utv's, but our preferred method is by pursuing behind our pack of lion hounds on foot on dry ground conditions. Whether we are going to be calling or dry ground hunting on foot, our most proven method of hunting these magnificent and elusive western predators is on foot with our with our pack of hounds.
"We are a Veteran friendly guiding service"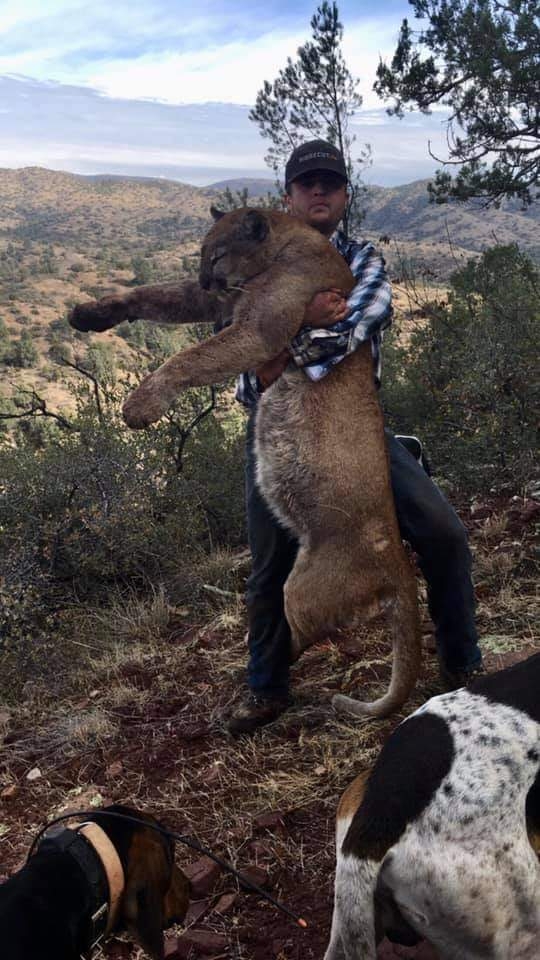 Our Guides
Our houndsman guides that will be taking you out on our lion trip are some of the very best fourth generation lion hunters in the state and will do everything humanly & legally possible to tree your tom and give you an extremely unforgettable first class hunting experience of a life time. Our team of predator hunting houndsman have over a two decades of pounding the high & low country, calling, trailing, and treeing lions under the very brutal country in Arizona has to offer.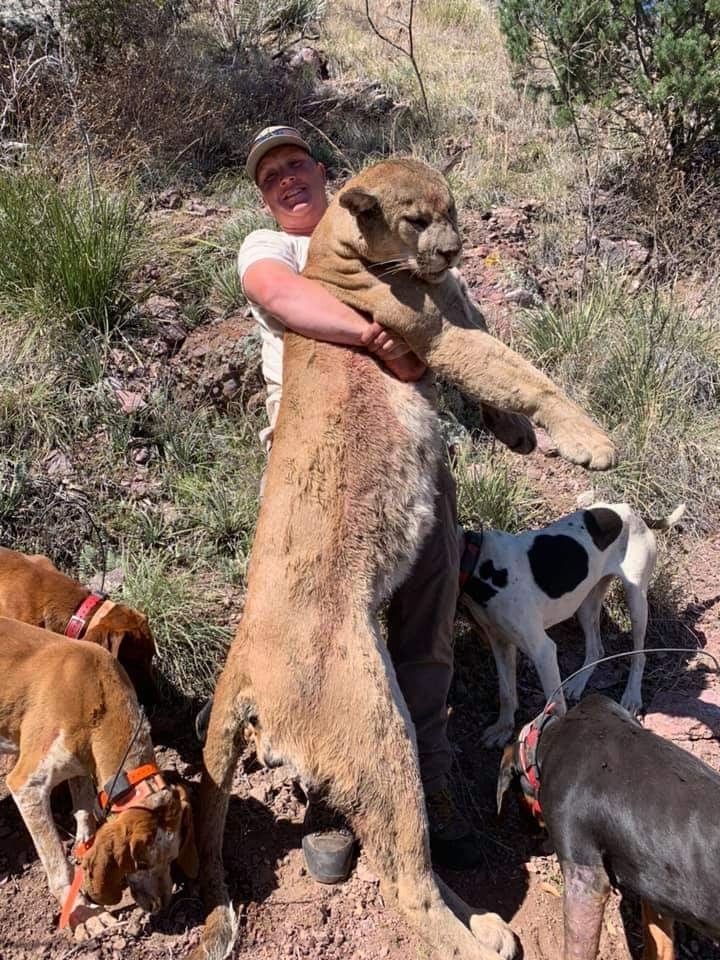 Your Day
The typical day on our guided Arizona mountain lion hunts will begin before sunrise. Depending on the particular area of rim country or the other units that we have located a fresh tracks or recent kill from a tom mountain lion. Some of the rim country where we conduct our mountain lion hunts has excellent road systems that we will utilize to cover vast amounts of country with trucks, & utv's in search of fresh tracks of a trophy tom mountain lion. If we are going to be lion hunting in a large expanse of rough and roadless country we will then free cast the pack of hounds while following them on foot as the pack searches for the fresh track of a legal mountain lion. Once a large tom mountain lion track is located either by us or by the hounds, the memories begin.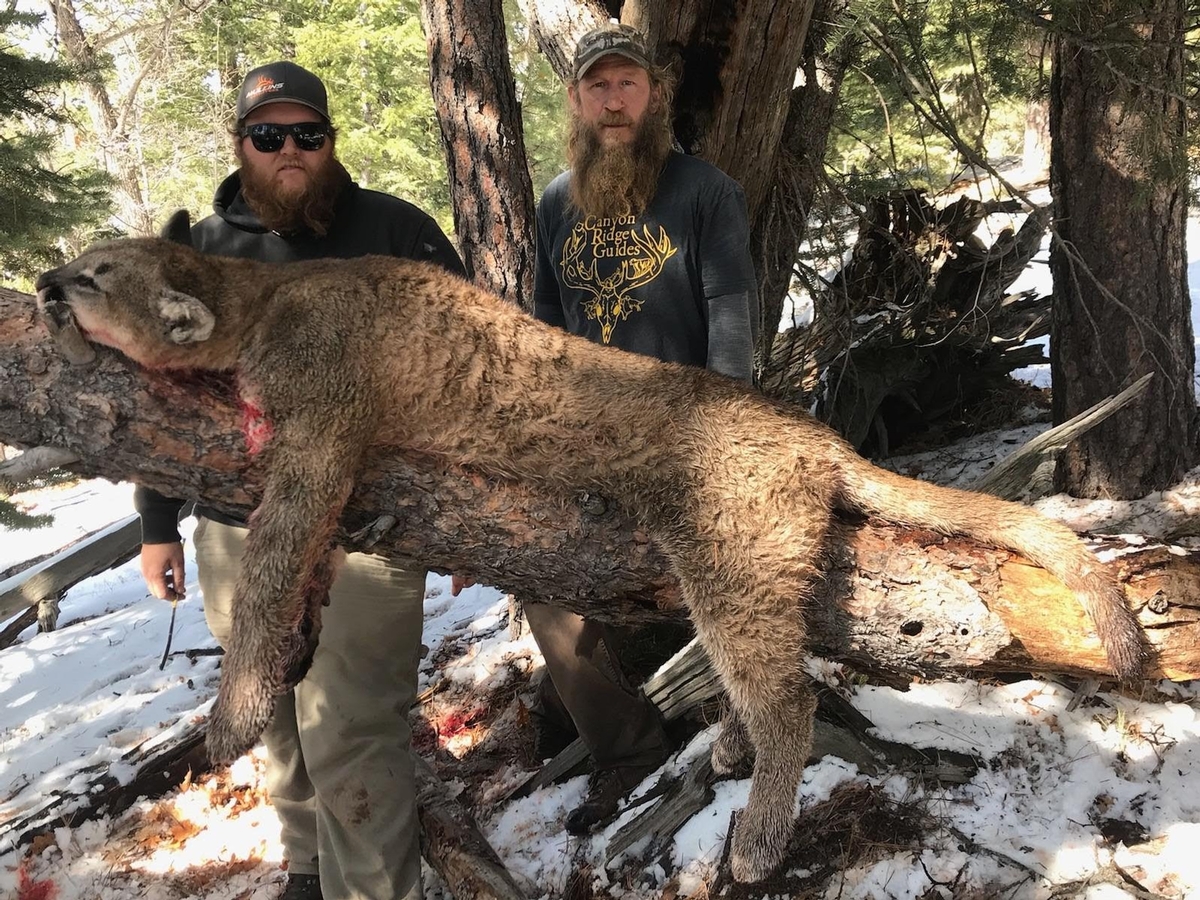 The Hounds
Once the pack of hounds has jumped the cat you never know exactly where that particular mountain lion will decide to tree or bay up once our hounds have finally caught up to the lion. The pursuit will make the lion either choose to climb up into the branches of a tall ponderosa pine tree, cedar, juniper, or climb up on top of a giant rock mounds, hide in the deep rim rock cave, or even fight the dogs on the ground.
Expect to take shots anywhere from 40 yards to point blank on a bayed lion so clients need to be ready to possibly do some quick shooting in a very adrenaline filled moment. Experience a extreme big game hunt that is not offered in the entire state for a hunter to experience than our lion hunts in the heart of Arizona.
The OTC tags and licenses for our trophy Arizona mountain lion trips are purchased online and do not need to be drawn.
Rifle/Archery License & Tags
Resident Hunting License ($37)
Non-Resident License ($160)
Resident OTC-Tag ($15)
Non-Resident OTC-Tag ($75)
Guided Hunt ($7,000)
Trip dates August 25th 2023 - April 2024
*Until harvest limit is reach in open zones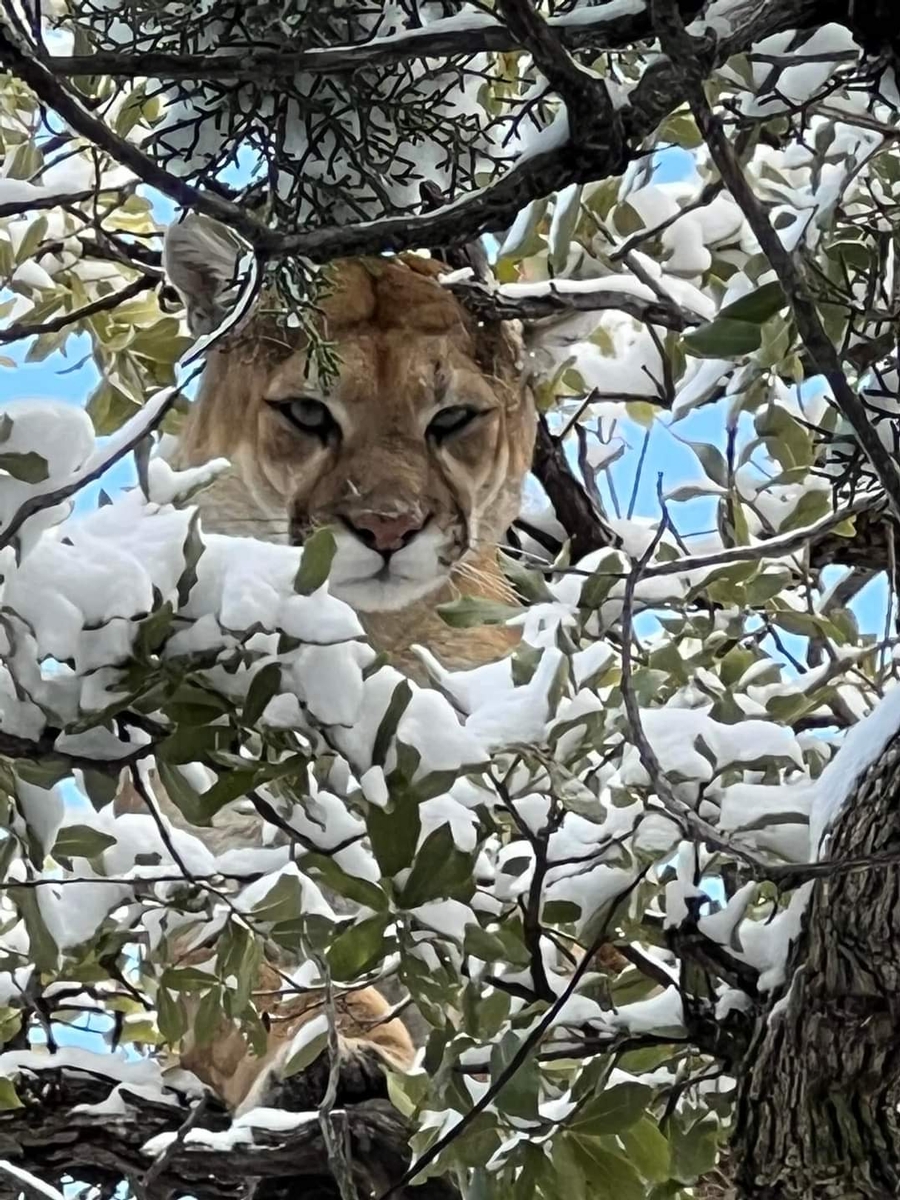 Success
Our Arizona mountain lion trips behind hounds have a 100% shot opportunity on any legal lion. Our most productive methods of hunting on this trip is by utilizing the pack of hounds, glassing, stalking & calling with an emphasis on trailing with behind hounds.